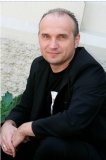 IUCN/SCC Otter Specialist Group Bulletin
©IUCN/SCC Otter Specialist Group
Volume 26 Issue 2 Pages 65 - 131 (October 2009)
Note from the Editor
Previous | Contents | Next
Dear Friends, Colleagues and Otter Enthusiasts!
It is a pleasure to announce the opening of issue 26/2 after you have filled issue 26/1 with manuscripts in a very short time. Obviously the trend that started in 2008, when we also had 2 issues after three intermediate years where we had only one, is still ongoing. I hope that this positive trend continues and Lesley and I will do our best to keep the IUCN Otter Specialist Group Bulletin a flourishing way to publish your results.
At this stage I can also announce that while we keep the maximum page number per issue to approximately 64 to allow printing and binding in the former way there is no need to keep to two issues a year. Let's see what the future will bring but there is a chance that we will have three issues this year.
Since this month we started also finally to populate the Special Issue 21A that will be the portal for the Proceedings of the IXth International Otter Colloquium (Frostburg, USA 2004). You may like to come back regularly to the issue as almost all articles have reached the state where they will go online soon. Thanks a lot at this stage to the reviewers that enable the publication of the proceedings in a peer-reviewed form. Issue 21A is available via the Bulletin link on the web pages.
For those of you who are not aware of it, I have to mention that all articles are also uploaded to the Directory of Open Access Journals (http://www.doaj.org) on the day they go online on our website. Please visit this website to search for relevant information for your research in journals devoted to a wide range of topics.
Personally I realize that it is also only about one year until we will meet in Italy and I am really looking forward to meeting many of you. Please keep an eye on the relevant websites.
…. and as always at the end….. Whoever is in doubt who is the soul of the Bulletin should see the tremendous work Lesley is doing. Thanks Lesley!
With regards,