IUCN/SCC Otter Specialist Group Bulletin
©IUCN/SCC Otter Specialist Group
Volume 34 Issue 2 (October 2017)
Note from the Editor
Previous | Contents | Next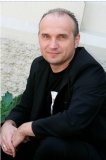 Dear Friends, Colleagues and Otter Enthusiasts!
Time is flying and we have real problems to keep pace with the number of manuscripts submitted. So finally, we start issue 2 of this year but we have already many more and I can only promise that Lesley and I will do the best to work on the backlog and reduce it. I hope you all will keep coming back to our website and see what new manuscripts went online. Authors that need a statement that their manuscript has been accepted please contact me and I will provide the necessary documentation.
It would be of real great support if some of you could provide us photos, as we need good resolution pictures for the title page. We are always in need of pictures.
At the end of my editorial note, I have to thank Lesley who is doing a tremendous job with all the articles, last minute changes, post-publication comments from authors etc. Lesley, thank you so much for all your efforts. Merci villmols.